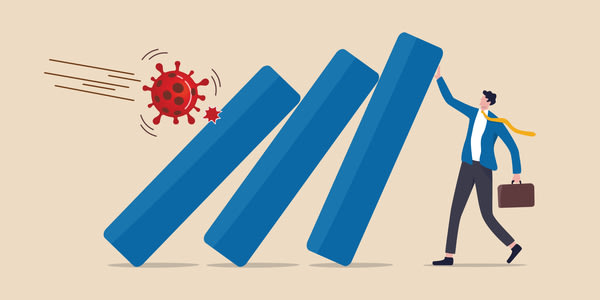 How Covid-19 Has Changed Brands Globally
2020, is said to be an unfortunate year. Past couples of the months, Covid-19 has been seen everywhere as a headline all around the world. One thing we can see from this pandemic is that it has significantly changed the lives of people beyond recognition. No matter it is the way people live, interact or carry out their daily activities, the world has undergone an unprecedented shift. This sudden change has left many anxious and worried.
Businesses are facing hard times with no sales or even being forced to lay off the employees to remain survive. Budgets frozen. Events are cancelled. Even universities' graduation ceremonies have been forced to delay further notice. Dream of wearing the gown on the stage has gone. Besides, consumer behaviour has also changed as a direct result of Covid-19.
Here shows 5 ways Covid-19 has changed the brand globally that we've noticed.
Digitalisation
Believe that going digital-first is not a new concept anymore, but it is definitely a norm during this critical period.
People ' daily habits are certainly not the same to where they were before the pandemic hit. They are no longer able to shop outside, hanging out with friends as before. Instead, they are forced to go online for their needs. Obviously, physical businesses operations have come to a halt, forcing every business to go digital-first. All of the practices have made every business realize the importance of digitalisation during the period.
Without digitalisation, many businesses clearly have to stop the operations due to the difficulties in getting sales offline. Government placed some stringent policies to prevent the virus from going viral. To stay afloat during these troubled times, businesses have to go digital.
Going digital can help your businesses to reach wider audiences, improve communication, save time and cost , while acting as a revenue stream without operating a physical store. Businesses don't need to worry about no sales anymore during lockdown with going digital.
Working Remotely
In preventing the virus from going viral, many of us started to work from home. It is a new style of working for many of us since we have been used to working at an office before.
Some of us might at first quite not get used to work from home. Some might even consider there is no private space when starting working from home. Home and working areas are now combined. Working hours seem to be even longer as they always need to stand by in front of the laptop.
However, after several months of working from home, people start to get used to it and even start to enjoy it. Quite sarcastic right? One thing to be honest, the Covid-19 has made people' working lifestyles change a lot.
Although many businesses have resumed working in the office, there are still some big companies like Google and Shell that allow their employees to work from home until next year. This is an opportunity for businesses and employees to reflect on how they work. Perhaps in the future, flexible working culture will become a crucial factor in hiring talents.
Digital Marketing
With the Covid-19 situation, many of the businesses have started to use digital marketing along with turning their businesses digitalise. Businesses who get to use traditional marketing tools like banners or flyers before this have been forced to stop this. They are no longer able to go out as they like during the critical period, hence the only way they can advertise is through digital marketing.
Thanks to the presence of digital platforms, marketing can never go wrong especially during this situation. Businesses start to turn to digital marketing as they are limited to physical interaction outdoors.
There are tons of digital marketing tools online. From Facebook, Instagram, Youtube to Google Ads, businesses get to reach out to a wide range of target audiences with the right targeting strategy. Even Facebook itself also has the targeting function where businesses can easily target their audiences.
With the right marketing tools and strategies, an effective marketing campaign or advertisement is not more a problem now even in the current situation.
Branding
During the Covid-19 situation, governments worldwide have been urging citizens to practice social distancing, stay home and implement travel restrictions. To lighten the atmosphere, brands and agencies in Malaysia put a fun twist to logos to reflect social distancing.
Below shows some examples of this:
Celcom
Celcom changed its logo to a white circle with the hashtag #StayIn to urge consumers to stay in.
INTI International University and Colleges
INTI took it up a notch by using its name to depict the concept of staying home. Such a creativity, isn't it?
Telekom Malaysia
TM urges their users to stay home while they will always stay connected with them.
Apart from the logo changes, there are also some brands that are giving back during the Covid-19 crisis.
Sport shoes brand like Allbirds is distributing free Tuke Matcha Wool Runners to healthcare workers in the U.S.
Beauty brand like Kiehl's is donating 500,000 meals to Feeding America's COVID-19 Response Fund.
Consumer tech like Apple has sourced and gathered 20 million masks, donating at least 10 million of them to healthcare workers in the U.S.
All of these brands are acting as a brand that cares for the people living in this world, together fighting with the Covid-19. They are more than just a consumer goods provider with these huge moves in positioning their brands.
Events
Due to Covid-19 pandemic, all the events are forced to cancel. Events industry is also facing the hardest time like the travel industry with social distancing and a lot of policies to prevent large gathering and spread of viruses. Universities' events and graduation ceremonies are facing the same problem as well.
Thanks to the technology and presence of lots of digital platforms now, brands and even celebrities have resorted to using social media live streams like Facebook live, Instagram live or Youtube live in replacement of physical events or concerts.
Singers like Taylor Swift, Mayday, Eason Chen and many more were doing live streams and the result was performing better than expected. It is actually not a bad idea for brands or celebrities to carry out events or concerts online for a large number of participants. People can even comment to interact with each other. Sounds good isn't it?
Conclusion
After reading this article, we can see how Covid-19 has changed brands globally from many perspective. Life still carries on with or without pandemic. What stops you to go ahead is never a pandemic, the only thing to stop you from moving ahead is always yourself. It depends on how you are going to deal with the difficulties. The opportunity is on your hand where you are the only one to decide your value. In days to come, we will witness forms of creativity like never before. Brands will have the chance to come alive if they stick to their brand's values and do it correctly with the right strategies. Comeback is real and we hope to witness more brands to come alive in the coming days.